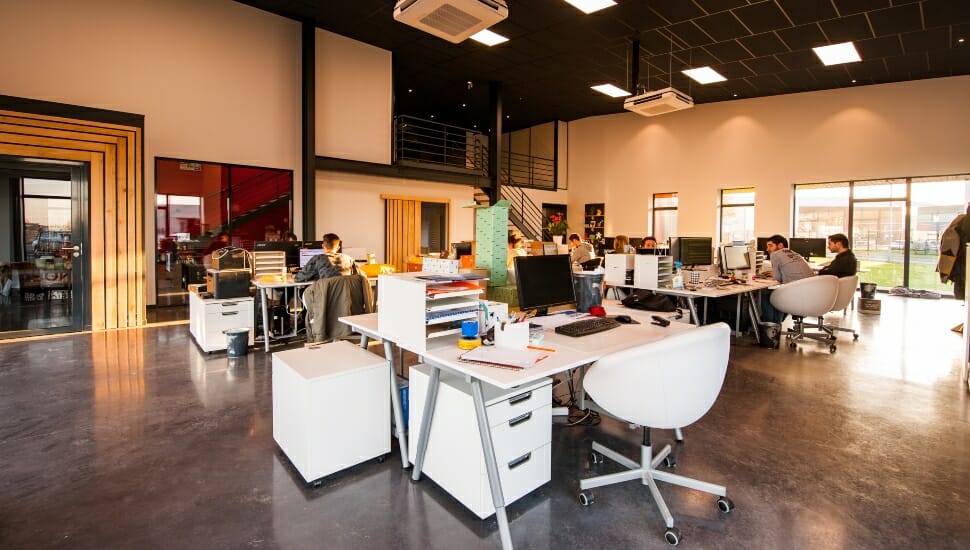 Support the Transition to Hybrid Work with a Powerful AV Solution
Hybrid work has taken over as a dominant working mode for many companies and offices. As workers remained quarantined during the beginning of the COVID-19 pandemic, many grew accustomed to the comfort and convenience of working from home. This new dynamic has changed modern work in many ways, including how workers collaborate, meet up, and work together (even when apart).
In light of these changes, hybrid meeting solutions have also evolved. Today's more flexible work style demands hybrid solutions that can accommodate on-site and remote workers. Keeping everyone involved while clearly relaying information is paramount. Similarly, office areas and workspaces are being rethought and revamped. As a result, AV for hybrid offices is being upgraded to provide user-focused meeting rooms and adaptable spaces.
The office of the future includes hybrid AV solutions like the additions, changes, and setups discussed below.
In-Person or Remote: Hybrid Meeting Solutions to Collaborate Together
Video conferencing has become the norm for many workers. Video conferencing done right can mirror the collaborative experience of an in-person meeting. However, many of today's work scenarios include some of each. That is, some on-site workers meet up while off-site workers join remotely.
Such situations call for hybrid meeting solutions. Meetings and meeting space must capitalize on physical collaboration while not excluding remote participants. Picture the standard long table in a meeting room. How can remote workers feel like active participants and that they have a seat at the table? In many cases, meeting setups can and should change.
Adding additional cameras during meetings and enhanced livestreams can ensure remote participants aren't overlooked. Capturing multiple angles can make sure participants and speakers can always see each other, follow what's happening, and not miss body language and other expressions. Similarly, using a digital whiteboard or keeping one camera fixed on a presentation board makes sure remote viewers don't miss information.
AV for Hybrid Offices: Creating a Work Destination
There's a difference between having a place to work and having a place to work best. With many workers going remote, AV for hybrid offices can enhance offices and even entice workers to make the commute. What's key is having the right flexibility to make offices and corporate workspaces better.
At a hybrid office, team building, training, and other engagement events can be carried out in person. Giving employees expanded abilities or work features unavailable off-site is crucial. For example, digital signage and video walls can enhance presentations and the sharing of information and new concepts.
With workers moving in and out of office space, hybrid AV solutions also include the ability to quickly and easily set up a meeting or collaboration space. This means that:
• Control systems should be intuitive but versatile and able to connect with on-site and remote devices like employees' laptops.
• On-site workers who have to jump into a meeting with colleagues working remotely should have ready access to installed webcams and know how to use them.
• Workers shouldn't have to worry about being heard, literally. AV for hybrid offices includes sound solutions, meaning both conference spaces and employees' work stations have adequate mics and speakers to pick up and relay sound.
Hybrid AV Solutions Are Here to Stay
All signs indicate that the office of the future will be a place for workers to come and go throughout the week, rather than a fixed daily location. This means that meetings and presentations will continue to be both remote and in-person. It also means that workers will expect to be able to connect to meetings, collaborate, and work in the same capacity whether they're in the office or at home.
To ensure that these capabilities are in place, hybrid AV solutions are a must. As the modern and future office shifts toward hybrid design, companies' use and implementation of technology will become the standard. Digital transformation may be well underway, but digital flexibility and hybridization are now ramping up.
Let Haverford help you prepare for change and this new normal. Our guide to virtual and hybrid preparedness can help you adapt as needed. Remember, hybrid AV solutions ultimately make your office and workplace more convenient, accessible, and adaptable — it's a change worth making.