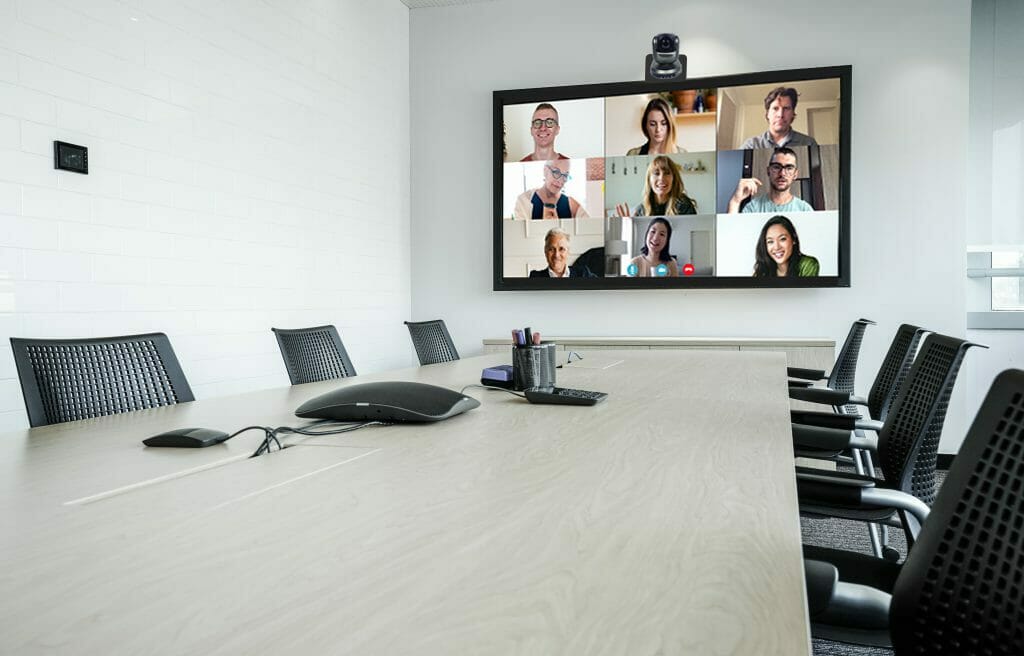 Open Platform Meeting Spaces
Modern meeting spaces need to be ready for anything. Now more than ever, organizations rely on communication tools, collaboration technology, and online workspaces that keep teams productive whether they are on the go or working at the office.
Some popular cloud-based video communication solutions for conference rooms include dedicated Zoom and Teams Room systems. Zoom, for example, offers dedicated hardware solutions that lock down a PC or Mac for use in a meeting room environment. These systems provide a touch screen interface for users to quickly and easily launch meetings and collaborate online. Microsoft also offers dedicated hardware solutions which are designed to integrate with Microsoft Teams in a similar way.
While dedicated hardware solutions offer the best integration with systems for which they are designed, they often lack abilities found in open platform meeting spaces. For example, Zoom Room systems lock down the computer operating system and therefore lack the ability to access a web-browser on the computer. Zoom Room systems can join Teams calls and even other platforms such as Google Meet, but the interconnectivity is often limited. Microsoft Team Rooms can join Teams, Zoom, and WebEX meetings but are often unable to join video meetings from providers such as Skype, GoToMeeting, or Google Meet.
More often, organizations are choosing the most flexible options when it comes to technology investments and this is where open platform meeting spaces thrive. Haverford Systems Integration (HSI) offers a variety of open platform technology packages that feature a dedicated computer. These are turn-key solutions that can be fully installed and ready for your team to use after a brief site-survey from one of our sales representatives.
Typical open platform meeting spaces include an LCD display with a wall mount, a super-fast Mini-PC from Intel, a wireless keyboard/mouse, a PTZ camera, wireless speakerphones, and a local HDMI input at the table or wall depending on the room layout.
HSI offers a variety of technology solutions from Logitech, Poly, PTZOptics, Zoom, and more. HSI is a Gold Certified Zoom integrator and a member of the Greater Philadelphia Chamber of Commerce. Reach out to learn more about our open platform meeting spaces by sending an email to [email protected].