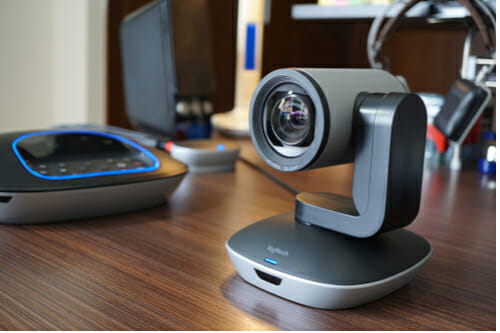 Is It Time to Upgrade Your Webcam?
Since the COVID-19 pandemic, communicating virtually has been more popular than ever. The number of people who rely on webcams for teleconferencing has significantly increased. With so much time spent using webcams to communicate, it's important to invest in a good one to create high-quality video and keep your audience engaged.
Although most laptop and desktop computers are equipped with built-in webcams, it's well worth investing in an upgraded external webcam. Whether you use your webcam for meetings at work, live streaming a training or worship service, creating video content on social platforms, or simply visiting with family and friends, a high-quality webcam can greatly improve your communication and experience. Here are some of the factors to consider while searching for a new webcam.
What to Look for When Shopping for a Webcam
Resolution. One of the most important features of a webcam is its resolution. If your webcam has a lower resolution, the image will appear grainy. If you use your webcam professionally, you'll want to aim for high definition (HD) with about 1280 x 720 pixels. Webcams with HD video capture are now common and affordable.
Frame Rate. There's nothing more frustrating while using a webcam than a frozen screen or choppy audio. It's disruptive to meetings and can render useless any videos you wish to upload for future purposes. To prevent your screen from freezing or stuttering, make sure to get a webcam with a high frame rate, which is how fast frames are transmitted over the internet. When comparing webcams, look for at least 30 frames per second (fps) for streaming.
Built-in Microphone. Most webcams have a built-in microphone, and their quality has advanced quite a bit. Premium webcams have the feature of omnidirectional sound, recording sound from all around the camera.
Video Effects. It depends on the purpose for which you'll be using your webcam, but you may want to include some special video effects to capture more dynamic videos.
Lens. For the sharpest picture, make sure you get a glass lens as opposed to a plastic one. Plastic lenses are cheaper, but they can produce a blurry picture and become scratched easily. Some lenses are fixed and have manual focus. Others offer auto-focus and will adjust if you move within the frame, constantly fine-tuning. Other functions include the viewing angle, pan, and tilt. These are great features if you are filming a group of people.
System Requirements. Keep in mind that you need to purchase a webcam that is compatible with your computer and its operating system. As you browse webcams and find one that fits your needs, make sure to check the requirements. Most webcams have requirements for the hard drive and also need a minimum processor speed and memory. If your computer is relatively new, it shouldn't be a problem.
Hardware. Webcams come in a variety of shapes and sizes and each is meant for a particular computer. For laptop computers, you'll likely want a clip-on webcam. For desktop computers, you may want one that comes with its own stand.
Price. Most webcams aren't very expensive, but like many products, you get what you pay for, so be sure to balance the features you need with your budget.
Need help delivering high-quality video and audio?
Haverford Systems can help. We know how quality video can impact meetings, webinars, and streaming. Our team ensures that you will have the best experience possible for whatever your video needs are.
We've been in the audio visual industry for over 30 years, providing custom technology systems, integration, installation, service, and support. Contact us to set up a meeting so we can discuss your technology needs and how we can best assist you.