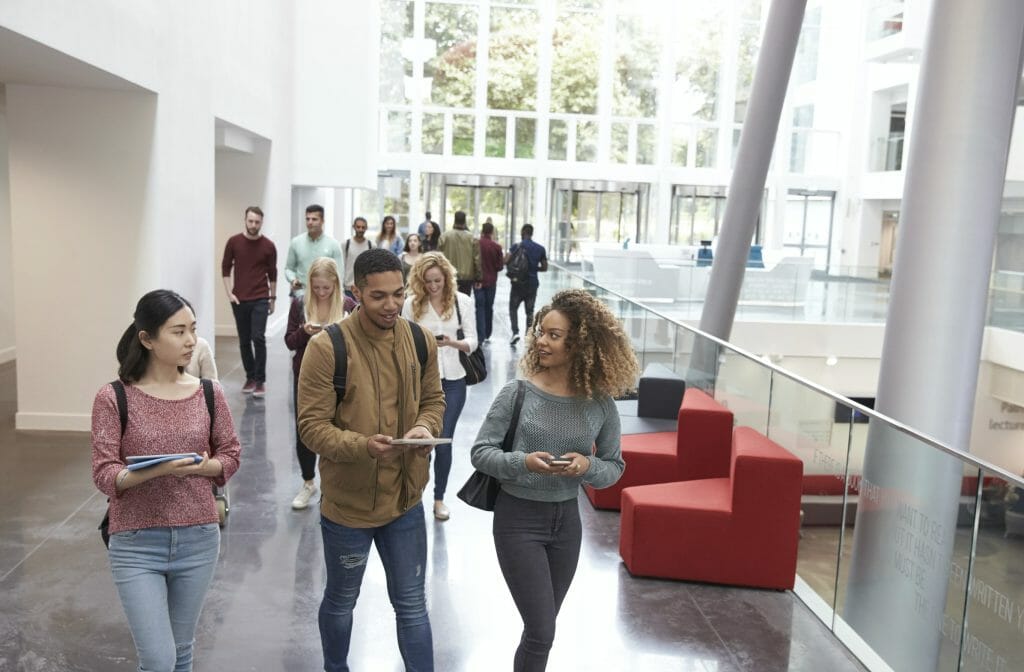 How Can Digital Signage Boost Student Involvement and Collaboration?
As technology evolves, students are using digital tools to learn more and more, whether it's in the classroom, in afterschool programs, or even between classes. Digital signage in particular can supplement learning and increase student engagement in a lot of ways, especially on college campuses. It augments learning experiences and even helps keep students safe. There are several ways digital signage can help students in the classroom and on campus at large.
Event and Club Promotions
Events on campus, both administration-run and student-run, are often so ubiquitous that they get lost in the pile of happenings on any given college weekend. And not knowing an event is happening isn't the only reason students don't attend. An unclear ticket-buying process or a last-minute change of venue may discourage a student from attending an event.
Kiosks placed strategically around campus with a calendar of campus events clearly laid out with easy-to-follow instructions for purchasing tickets could increase student attendance at events in a big way. Similarly, a digital sign outside a venue could easily be changed to say the event has been moved to another location (with an accompanying map) or to let attendees know of a delay in opening the house. In addition to listing out events, digital signs can list student-run clubs that are organized in different ways (alphabetically, by category, etc.) and allow students to join mailing lists right then and there to get updates about meetings and events.
Safety Locations and Information
After the Virginia Tech Massacre in 2007, West Virginia University installed digital signage across campus to implement a system that would keep students safe in the event of another emergency. Campus-wide screens are an effective and efficient way to communicate to the entire student body in real time in the event of an emergency, whether it be an active shooter situation, a weather event, or a national emergency of some kind. Digital signage can also be displayed in multiple languages simultaneously, and, unlike sirens or loudspeaker announcements, can be understood by the hearing impaired. These signs can provide not only instructions but maps that direct students to the proper location during an emergency.
Advertisement Opportunities
Digital signs also provide a medium through which to encourage students to purchase products or services. School bookstores and student centers are ideal locations for digital signage.
Additionally, if there is a new exhibit at the campus museum, a renowned speaker coming to campus, or a playoff game coming up for the soccer team, all of these events can be publicized via digital signage.
Additionally, digital signage can be used for student recruitment and retention, especially as Gen Z kids become college-aged. Showing off engaging, well-designed displays and demonstrating that the school has integrated technology seamlessly into its day-to-day operations are sound strategies for drawing Gen Z students into a learning environment.
If you're interested in learning more about the ways digital signage can improve learning outcomes and engage students more fully, you can read this post about higher ed learning experiences or this post about effective solutions for upgrading classroom technology.
If you're interested in how Haverford Systems can help your educational institution engage with digital signage, book a meeting with us below.