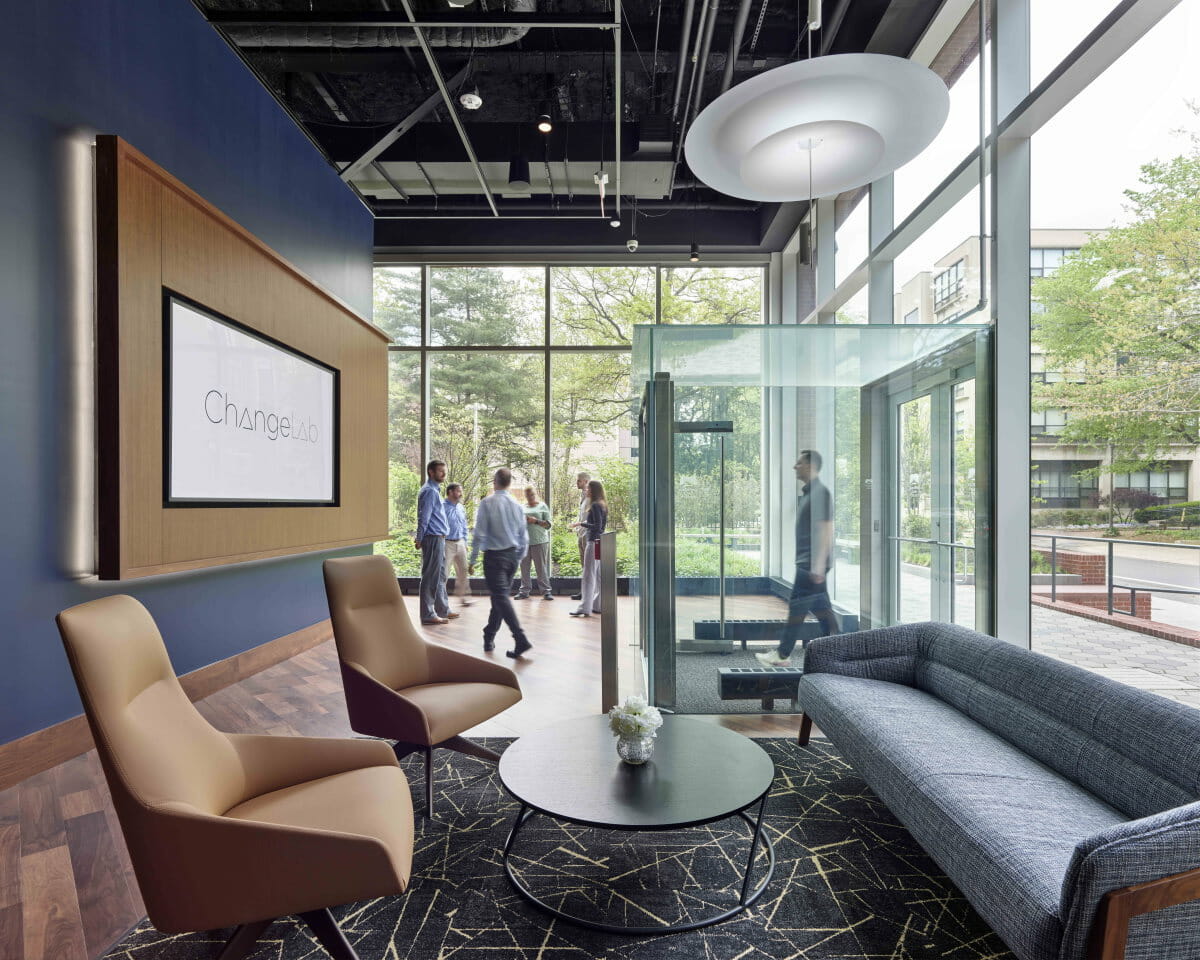 Case Study: American Bible Society's Video Wall & Digital Signage
Why ABS Chose Haverford for Audiovisual Installation
The American Bible Society aims to make the Bible accessible and affordable to people all over the world. They were looking for a company to help them create a modern multipurpose space called "ChangeLab" with a video wall and digital signage. The ChangeLab was planned to be a place where spiritual leaders could gather (both in person and virtually), a skills hub for connecting people with various strengths, and a lab for testing innovations in experiences, practices, reporting, and advocacy.
ABS had a trusted relationship with Haverford that relied on open communication and transparency, so they chose Haverford to serve as a consulting organization for the design of the multipurpose space. ABS was so pleased with Haverford's knowledge and experience that they asked Haverford to do the audiovisual installation as well.
Haverford outfitted the ChangeLab with video conferencing capabilities, live streaming capabilities, and digital signage, all of which improve ABS's ability to promote their "State of the Bible" research project. The space was built in part for hosting live events, which ABS has already done with much success, and for renting out to other faith-based organizations. ABS also intends to let certain organizations, like churches, use the space for free.
Audiovisual Technology Haverford Installed in the ChangeLab
Firstly, Haverford installed two 219" screens on a video wall with a display on either side. This means one display can be projected toward those inside the space while another display can be seen from the street for advertising purposes. The space can be set up in multiple ways, from theater-style seating to a conference room layout to seating for events and entertainment.
Currently, ABS mainly uses the video wall to record presentations in the space and simultaneously live stream those presentations to remote audiences, as well as stream them on social media. The fact that the video wall can display multiple sources at a time is particularly helpful. ABS can show digital signage on the public-facing side while live streaming a presentation on the other. Three cameras, one facing towards the audience, and two facing toward the screen, provide full coverage of any presentation or event.
ABS launched its audiovisual installations in March of 2022. They had a high-interest potential donor come in and view the space, and this person was clearly impressed with what the space had to offer.
Challenges Faced and Solutions Haverford Provided
ABS needed a true multipurpose room with capabilities for digital signage and content, video production, and live streaming. Thanks to Haverford, ABS was able to strictly focus on what they needed from the space and let Haverford execute the technical requirements of the project. Having this space has allowed ABS to launch a changemakers' campaign to raise money for their organization. This campaign in particular allows ABS to pursue a different demographic of philanthropists to help raise funds for Bible printing.
Why ABS Loves Haverford
ABS appreciated Haverford's ability to listen to, recognize, and understand customer needs. They felt that Haverford took the time to create a design that was responsive to their goals as an organization and then developed a solution to fulfill their needs, all while providing an extremely high level of customer service and consistent commitment to quality.
ABS appreciated the transparency and consistency of Haverford's communication, especially when being upfront about challenges during the process or changes that needed to be made during the audiovisual installations.
"We found it critical to have that partnership with Haverford in place early on in our process. Haverford's insights were invaluable especially when it came to implementing creative solutions to AV requirements that the architects/engineers didn't initially consider." -Jerry Donohue, AV/UC Manager for American Bible Society
How Haverford Can Help Your Organization with Audiovisual Installation
Interested in how Haverford can help your organization fulfill its mission? Book a meeting.