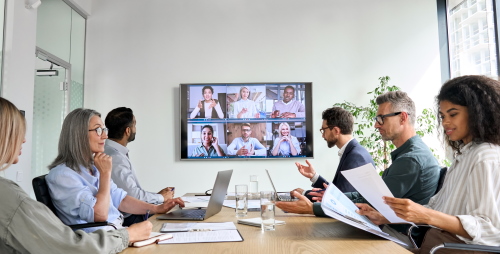 AV Systems for Easy, Professional Video & Zoom Conferencing
Need a home office Zoom room setup or web conference room setup that actually works for you and your colleagues? Haverford has some easy solutions for how to upgrade your AV systems to make communication and collaboration easier in and across teams at your organization.
Home Office Solutions
High-Quality Webcam
If you're trying to improve your Zoom room setup at home, ditch your integrated webcam and invest in a high-quality webcam. For smaller rooms, a fixed-lens camera makes the most sense. When looking for a webcam, you'll want to aim for HD with about 1280 x 720 pixels, a frame rate of at least 30 frames per second, a built-in microphone, and a glass lens, not a plastic one. You'll also want to consider the operating system requirements for the camera and make sure those requirements are compatible with your computer setup. You'll also need to determine whether you want a camera you can clip onto your laptop/monitor or if you want a webcam with its own stand. Read more about how to find the right webcam on our blog.
USB Microphone
If you don't have a webcam with a built-in microphone or just want other microphone options, a USB microphone is very useful in a home office Zoom room setup. When considering what kind of USB microphone to buy, consider the operating system compatibility, external controls and inputs (like XLR connections), format, audio resolution, and cost.
Panel Lighting
The right lighting in your home office helps you concentrate and also keeps your eyes comfortable during long work days. An LED panel light will keep your workspace bathed in consistent, low-energy, and long-lasting light that doesn't flicker. Light directly over your workspace should be at least 4,000 Kelvins, and a dimmable light with the flexibility to adjust your lighting according to the time of day/weather is optimal.
Small- to Mid-size Conference Space
USB Video All-in-One Sound Bar
All-in-one video sound bars are a great option for small- to mid-size conference spaces. They are compact, easy to operate, and powerful. Cloud-management software capabilities make them remotely controllable by IT, auto-framing and tracking video features make sure everyone can be seen, and background noise-blocking microphones make it easy to hear everyone on the call.
Speaker-Tracking Cameras
There are a variety of speaker-tracking cameras now available for small- to medium-size conference rooms. Ranging from all-in-one bars to EPTZ cameras, this is the leading request in our market. If you're not trying to fit that many people into your space at once, a wide-angle lens so that everyone can be seen clearly on video calls is perfectly acceptable.
Mid-Large Conference Space
For a mid-large Zoom conference room setup, you'll want a hands-free auto-framing PTZ camera that will capture all participants when speaking and a USB-connected speakerphone so everyone can easily be heard. For larger spaces, we recommend using an automatic preset recall system in which multiple cameras work in tandem with programmed mics to identify who is speaking and which camera to use to achieve the best viewpoint of the speaker available.
Teams and Zoom Room Setup
If you're looking for the optimal Zoom conference room setup, HSI can install Controls Systems that are easily integrated with your current infrastructure and will allow a one-touch solution for meetings. Each conference room will have its own identity so you only have to send an invite for the meeting to show up on the touch panel and access the room. These rooms will be locked down to their respective conferencing system, with variable capability to join third-party meetings as well. All you have to do is select your meeting on the panel and it will begin immediately.
Book a Meeting with Haverford Systems
If you want to read more blogs from Haverford Systems about workplace technology setups, you can read this post about working from anywhere or this one that dives into hybrid work setups. If you're interested in learning more about Haverford's AV solutions for Zoom conference room setups, book a meeting with us.