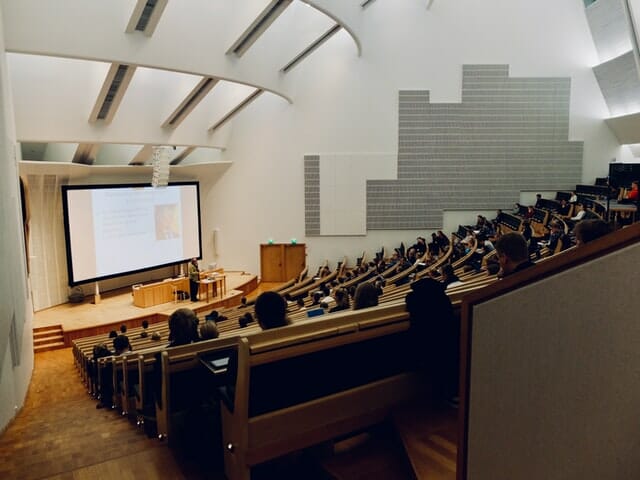 A Higher Education Case Study
Integrating technology services to fulfill current needs and provide for future challenges has long been part of Rosemont College's mission and strategic plan.
For the past decade, Rosemont has worked with Haverford Systems, an innovative audiovisual installation company serving the Philadelphia region, to provide its faculty and students with videoconferencing and live streaming tools.
Although Rosemont, a small liberal arts college in Rosemont, Pennsylvania, began its partnership with Haverford Systems long before the COVID-19 pandemic, the tools that Haverford Systems installed proved especially crucial in the spring of 2020 when classes went online and teachers had to provide synergistic, effective, live-streamed lessons.
Identifying the customer's goals
When working with customers, Haverford Systems first seeks to open a dialogue so it can develop an extensive understanding of what the client requires. As part of this process, Haverford Systems visited Rosemont's spaces and recommended hardware to help the school accomplish its goals.
Rosemont's goals were to use audiovisual technology to better engage students, improve learning experiences, and engage all learners, whether in or out of the classroom. Rosemont also sought a plan to outfit its newly renovated board rooms with cutting-edge, easy-to-use, and affordable live streaming equipment that required minimal IT support.
Haverford Systems' solutions
As part of its partnership with Rosemont College, Haverford Systems retrofitted eight of Rosemont's older classrooms and library spaces with videoconferencing technology and installed audiovisual equipment in the board rooms in the school's newly constructed community center.
In Rosemont's classrooms, Haverford installed Sharp AQUOS Board® interactive display systems, which use responsive touch pens to allow several people to write on the same screen at the same time.
New Pan Tilt Zoom (PTZOptics) cameras cover larger classroom areas and are plugged into a power source, meaning educators do not have to worry about running out of battery power in the middle of a lesson. They allow remote students to see both their professors and classmates.
To provide a superior audio experience, Haverford Systems integrated a wireless headset, a handheld microphone, and a soundbar. Spectrum flex tables and chairs in Rosemont's maroon and gray are configured in a way that allows students to interact with each other and see the materials presented on the digital whiteboard.
In the board rooms, Haverford Systems designed installed hardware to optimize live-streamed Zoom meetings that can be presented wirelessly via a laptop or smart device. For audio, wireless boundary table microphones allow everyone, or a smaller group, at a table to participate. Meeting organizers can use the Zoom application to control the 98" Planar flat panel display and the PTZOptics camera. High-quality pendant speakers are situated strategically between ceiling tiles for a sleek finish.
The benefits
Because Rosemont College had already worked extensively with Haverford Systems to revamp its audiovisual technology, it was prepared in the spring of 2020 when the COVID-19 pandemic brought a temporary pause to in-person learning, and ready in the fall of 2020 when some students returned to its physical classrooms.
Just before reopening to in-person learning, Haverford Systems worked with Rosemont college to ensure all audiovisual conferencing technology was calibrated and ready to go.
"Our transition to hybrid course offerings was very straightforward because the technology was already in place and the instructors knew how to use it," said Dan Mason, Director of Information Technology at Rosemont College.
When staff was working from home and some employees, such as the emergency management team, needed to interact to create a plan to transition back to in-person learning, Zoom allowed them to hold meetings safely.
With most students back in the classroom, PTZOptics cameras allow professors to seamlessly include both in-person and remote students.
"I don't think I could lead classes for both in-person and remote students without these cameras because I need them to keep everyone engaged and feeling connected," said business professor Christine Hagedorn.
The multiple views allow the remote learners to view Hagedorn standing in the front of the classroom and to see their classmates speaking, she said.
You can watch here to see a description of how Rosemont College used the PTZOptics cameras in her classroom:
Although the technology was necessary during the pandemic when the college was officially closed, Mason said he believes a learning model that includes some remote students will continue beyond the pandemic.
Other benefits have already been realized. For example, for some of the older buildings which the school has not yet been able to renovate for ADA compliance, students with disabilities can still participate remotely.
Throughout the process of updating its audiovisual technology, during the COVID-19 pandemic and beyond, Haverford Systems was with Rosemont College every step of the way and will continue to assist the school in its vision to incorporate more collaborative audiovisual technology in the future.
Haverford Systems is an innovative audiovisual installation company with over 30 years of experience in the business and is available to help design and install a customized audiovisual system for your school's classrooms and meeting spaces. Click below to book a meeting to learn more about how Haverford can support your classroom and meeting space needs.