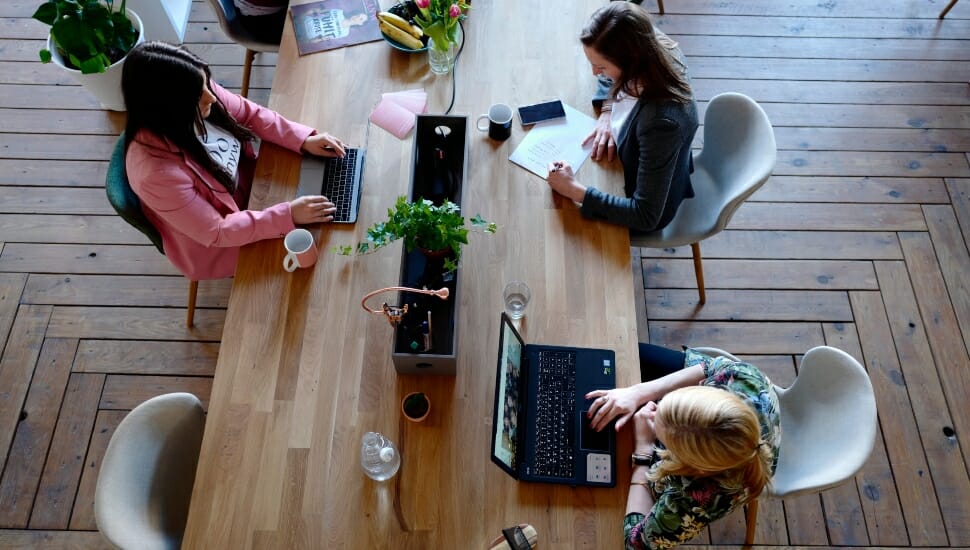 3 Things Your Conference Room Needs to Increase Productivity
The last few years have shown companies that their technological capabilities for hybrid working situations need to be top-notch. And technology isn't just important for including people working remotely. Proper equipment in your conference rooms will make your meetings more productive and engaging for everyone involved. We're going to cover three categories of technology that can make or break the quality of meetings: microphones/speakers, cameras, and monitors.
1. Microphones
Having microphones that capture sound well, filter background noise, and blend into the room discreetly means you don't have to spend half of your meeting shouting: "Can you hear me now?" to your colleagues on the other end of the call. Depending on the size and shape of your conference room, you will want to look for different characteristics in your microphones.
Ceiling Microphones
The advantages of ceiling microphones are many: They will pick up everyone who speaks clearly and equally, background noise interference is minimal, and there are fewer wires on tables and floors to contend with (aka trip over). Here are two different examples of ceiling microphones: the Biamp Parlé has superior coverage and is easy to install, and the Shure MXA910 takes the shape of a ceiling tile itself, blending into its surroundings seamlessly. Plus, both solutions allow for network operability.
In addition, there are two other microphone options to consider: Vaddio provides a great USB solution and ClearOne offers hanging and array options for microphones. Learn more here.
Placement or Tabletop microphones
Tabletop microphones would be the first option to consider for audio, as the meeting audio will be at maximum performance when the microphone is closest to the end users' voice. They may work for smaller conference rooms and in situations where one presenter is doing the majority of the talking. You can place them anywhere in the room, and you can mute/unmute them manually. The Shure MXA310 is excellent for filtering out background noise, and the Parlé TTM-X Tabletop picks up sound evenly across the room no matter what.
*With both the ceiling microphones/tabletops, they will require additional equipment such as a processor and amp.
2. Speakers
When it comes to speakers for your conference room, you'll want to look for speakers that allow for reduction of background noise–because people are working from home more now, we've all experienced a meeting where a child or pet interrupts. Of course, this also applies to fans, passing cars, and other less intrusive noises that often occur in the background of meetings. For example, the HuddleCamHD HuddlePod Air solutions are wireless, cost-effective USB audio speakerphones for small- to medium-sized conference rooms. Meanwhile, the JOUNIVO Omnidirectional USB Conference Speaker works as both a speaker and a microphone, and it's a very reasonable price. Note: If your speakers require a WiFi connection, you'll want to ensure that your internet connection is strong enough to handle your corresponding equipment.
3. Cameras & Displays
Camera equipment is another consideration to take into account when setting up your conference room technology. While budget, resolution, compatibility, and microphone connections will all factor into your decision-making process, it's also important to consider the size of your conference room when choosing a camera. For smaller rooms, a fixed lens camera makes the most sense. For medium-sized and larger rooms, you'll want a Pan-tilt-zoom (PTZ) camera. The number of people in the room also affects the kind of camera you should choose. If you're fitting a decent number of people into a small room, you'll want to get a wide-angle lens so that everyone can be seen clearly on the call. Conversely, PTZ capabilities are important for seeing all participants in a large conference room. However, there are all-in-one cameras that possess both PTZ and fixed lens features. Some models of these cameras are not limited to PTZ, but also feature functionalities such as auto framing and speaker tracking.
Choice of display monitors is similarly determined by the size of your conference room. According to the company AV Specialists, the three measurements that matter when choosing a monitor are ceiling height, wall width, and distance from the farthest seat. Another way to think about it, according to Jones IT, is to get a monitor with a diagonal dimension that is half the length of your conference room. When choosing monitors, one important thing to consider is the warranty. Consumer displays that you can buy at a local retailer usually have warranties that only last up to 30 days, but are much more inexpensive than commercial displays. Commercial displays typically average a warranty of up to 10 years, so the extra cost can be worth the investment.
If you want to read more blogs from Haverford Systems about workplace technology setups, take a look at this post about working from anywhere or this one that highlights hybrid work setups. If you're interested in learning more about Haverford's AV solutions for remote, hybrid, and in-person workplaces, book a meeting with us.