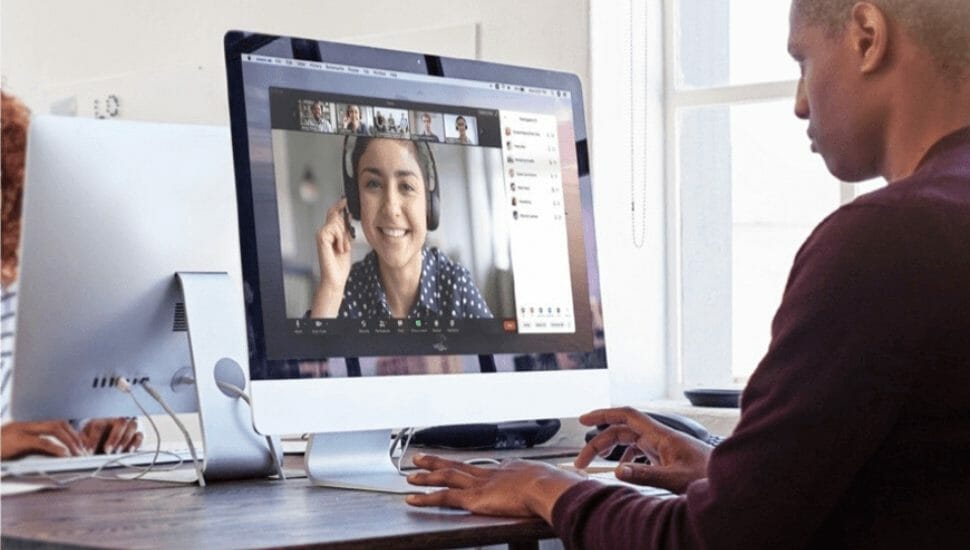 Zoom vs. Teams – Let's Compare
Zoom and Microsoft Teams are the two platforms that dominate video conferencing, but each has unique qualities and features. Before you invest in one, it's important to compare the two and see which is best suited for your business's needs. This guide will help you choose.
Collaboration Features
While the focus of both Zoom and Microsoft Teams initially began solely on virtual meetings, the importance of collaborating in other ways quickly became apparent. On both platforms, users can chat and share files. For Zoom, chat is only available during a Zoom meeting. Otherwise, you must download Zoom Chat to converse outside of the meeting. With Teams, you can create various channels or groups in or out of a meeting.
Ease of use
Microsoft Teams provides comprehensive communication through its platform, but all of its features can make it a little more difficult to use. Zoom is a bit more of an intuitive and straightforward interface.
If you're new to Microsoft, it can be a little intimidating to navigate through all of the features, but if you're used to using the system, it may actually be easier to use Teams than Zoom as it creates a seamless experience. Zoom is known for its ease of use because it's a fairly simple interface, which makes it great for new users and teleconferencing beginners.
Participant capacity
Some businesses require a higher capacity of participants in their teleconferencing calls, so it's important to know the maximum number allowed for each platform.
With a free Microsoft Teams plan, you can create a group of up to 100 attendees. To add more, you'll have to purchase a basic plan, which allows 300 participants. Live events allow 10,000 attendees, and a Microsoft Office account can support up to 20,000 listen-only attendees.
Meanwhile, the free version of Zoom allows 100 participants, but only for a 40-minute group meeting. With a Zoom Enterprise paid plan, you can add up to 500 attendees.
Integration capabilities
Both Microsoft Teams and Zoom are supported on most devices–Android, iOS, Windows, Mac, and Linux. Also, you have access to cloud storage on both platforms.
One of the biggest differences is that Microsoft Teams is much more than a teleconferencing platform. It integrates several administrative features, including chat, voice calls, and easy file-sharing of other Microsoft software like Office 365. Zoom, on the other hand, focuses more on virtual meetings but does offer file sharing through third-party apps like Google Drive, Asana, Dropbox, Slack, and HubSpot.
Cost
Both Zoom and Teams have free versions with limited features. Microsoft Teams offers personal and business plans as low as $5 per month, per user, which is great for small businesses that don't need advanced functions. With this basic plan, called Microsoft 365 Business Basic, you can host a meeting of 300 attendees, and access 1T of cloud storage. The next level up, 365 Business Standard, is $12.50 a month. It allows you to create webinars and features attendee registration and reporting tools. The most comprehensive plan is the 365 Premium at $20 per user a month. It offers advanced security and more. The free plan includes 60-minute video call sessions for up to 100 people and chat and collaboration for 500,000 members.
Zoom's lowest paid plan, Zoom Pro, is $14.99 per user, per month, and gives the ability to add on to allow more participants (1,000 for an additional $50 a month). It features the use of unlimited whiteboards and 30-hour group meetings. The Zoom Business plan is $19.99 and allows 300 participants per session as well as managed domains and company branding. Zoom Enterprise is the priciest at $35 but allows 500 participants. The free plan gives users unlimited 1:1 calls and 100 participants per meeting for up to 40-minute sessions.
Need Help With Teleconferencing?
Both Microsoft Teams and Zoom have their pros and cons. Teams is great for businesses who are already on board with Office 365 or want to go with a less expensive, basic plan. Meanwhile, Zoom provides tons of integrations, a higher limit of participants, and is easy to use. Whichever one you choose, Haverford Systems can help with setting up your teleconferencing needs.
For over 30 years, we've aided businesses in setting up conferences and we are experts at virtual meetings. Contact us so we can discuss your technology needs and how we can best assist you.